Nathan's Journey at LBA

Share this article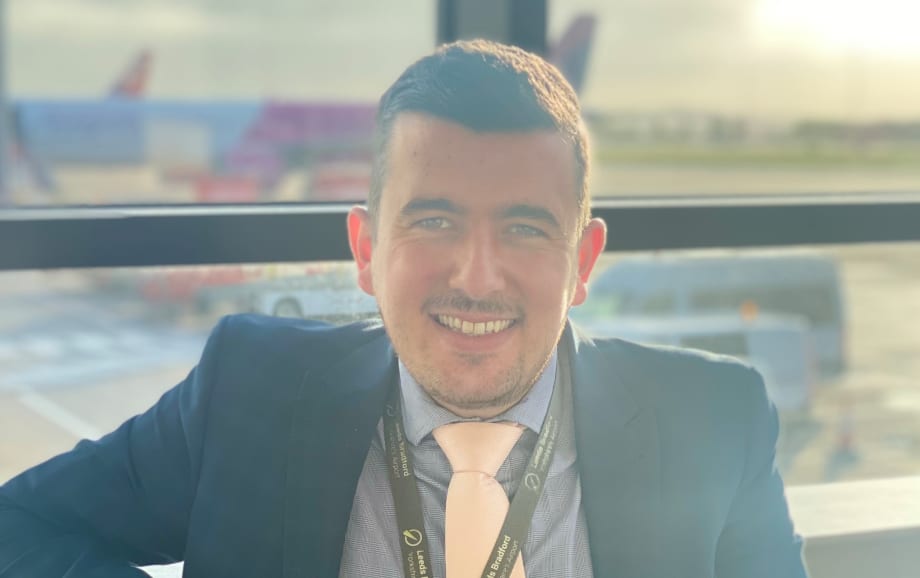 We asked one of our Airport Duty Managers, Nathan, about his role and career journey here at LBA!
When did you join LBA and what LBA like to work for?
I initially joined LBA in 2012/2013 as a volunteer and work experience role at ASU, but my first paid role in the company was in 2014 as a temporary airport ambassador for the summer. I absolutely love working for LBA. I have literally grown up in the company; when I started as an airport ambassador, I was 19, and now I'm 28 with my own family and house. Working at LBA has taught me a lot about life and allowed me to grow as a person, which I am now passing on to new employees. So, life really has come full circle! Working for LBA has allowed me to gain lifelong friends and exposed me to opportunities and experiences that have shaped who I am today.
Have you always been in this role at LBA? If not, please list all the roles you have had and why you changed.
I started as an airport ambassador in 2014 on a temporary contract for the summer. I was lucky enough to be kept on for the winter of 2014–2015. At this time, I still lived with my parents in York and was working another part-time job at my local Morrisons supermarket. I knew I had to work hard in the summer of 2015 to impress my peers, which would hopefully secure myself a full-time permanent contract, and in the winter of 2015–2016, this was rewarded. I then worked hard over the next few years until I secured my Terminal Team Leader role, which was the next stepping stone in the airport team structure. Then, in 2018, the team was disbanded, and unfortunately, I was faced with redundancy. But another role was offered to me, and I took up a role in the PRM team. At this point in my life, I was trying to save for a house deposit so I could move closer to the airport. Although I enjoyed the PRM team, I wanted to achieve my goal, which I had from the outset of my employment in 2014, which was to become an airport duty manager. After a short time with the PRM team, the Airport Duty Manager role became available, and I was successful; to this day, I remain in this role. I covered a short sabbatical as head of PRM and airside bussing, which gave me fantastic experience for the next step up within the company. Moving up the ladder into the aviation development team is my next goal within LBA.
What do you love most about your role?
The Airport Duty Manager role is extremely varied; the 4 on, 4 off nights and days shift pattern may seem long, and on some days, 12 hours is very long! But the job is never the same from day to day or night to night. We form the keystone of the airport's emergency operations, and this keeps you on the edge of your seat for the full shift. We are a small team and get along like lifelong friends, which is so important as we are self-sufficient, and we can only rely on each other for help and advice as most of the time we are on our own and it is our responsibility to make decisions in the best interest of the business, shareholders, and directors. This responsibility helps me thrive and really makes it, in my opinion, one of the best jobs in the airport. We are responsible for the full site, so there isn't a place on the airport or airfield I haven't been to, and there is rarely a person we don't know or who doesn't know us.
Tell us a bit about your role and department.
We are responsible for the day-to-day running of the airport and everyone who uses it, passengers and staff, no matter which company they work for. We need to keep the site secure and safe for everyone to use, and if it isn't, we need to make the right decisions to put this right. 365 days a year, 24 hours a day, there is someone from our team of five on-site, and yes, this includes Christmas Day!
Tell us a bit about the people you work with.
Because our team is so small, we use the old cliché "we are a family," but we really are. We have 4 duty support officers who are our assistants and then 5 Airport Duty Managers, and we all know each other personally both inside and outside of work. We are each other's biggest supporters, and no matter the time of day or night, someone is always available to help the other. We see each other more than we see our own families sometimes!