Shopping
World Duty Free
Brimming with top brands and offers on beauty, fashion, wines, spirits, treats and fragrances; World Duty Free is your one-stop, high-street-beating shop.
It's easy to get on board with exclusive fragrances, skincare and make-up brands, many specialised whiskies & cognacs, watches and sunglasses not always stocked on the high street.
Pre-order to pick up at the airport before your travel!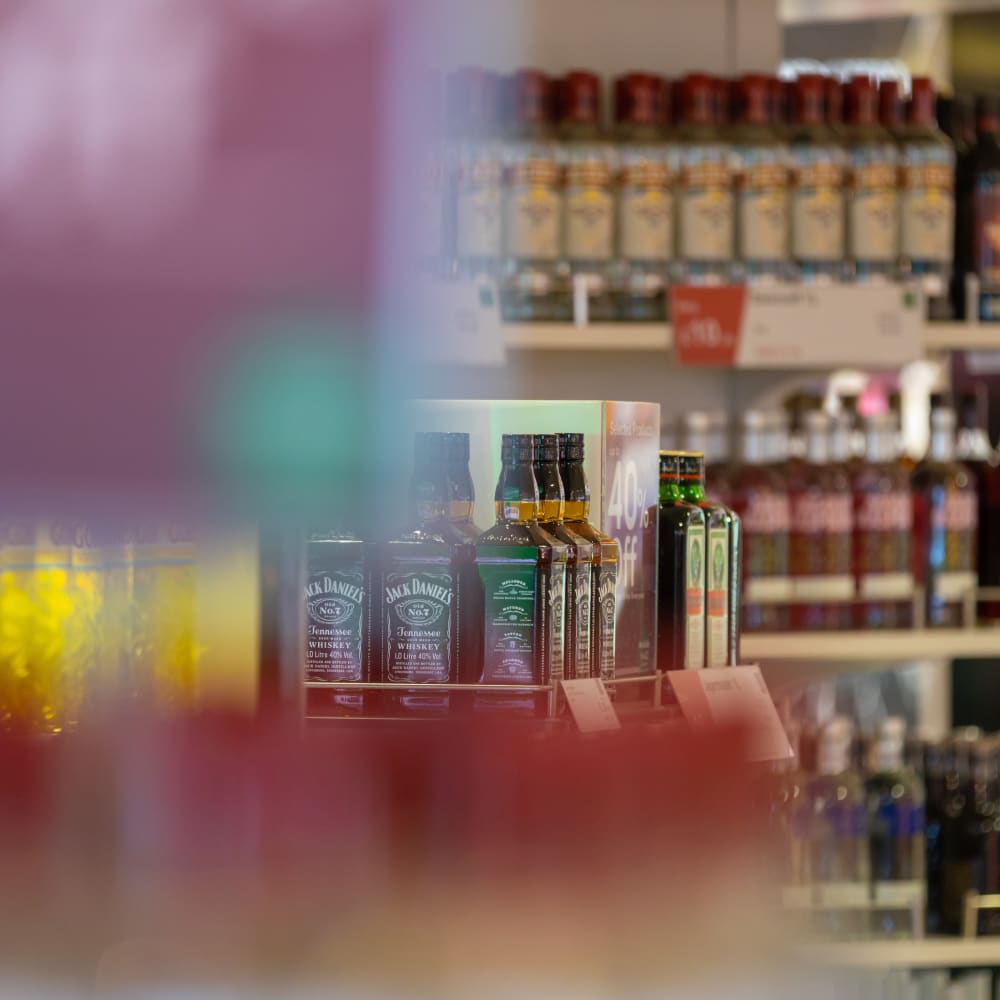 Opening hours
World Duty Free is open from the time of the first departing flight until boarding of the last flight daily.

After Security
You'll find World Duty Free after security in first floor departures. After passing through the security area, simply follow the walkway straight ahead from the escalator.
Be free to shop your way at World Duty Free
You can browse thousands of products online and arrange to collect them from World Duty Free at the airport on the day of your flight. Simply reserve the products between 1 month and 24 hours before you fly and then pick up and pay at the in-store collection point.
Worried about having to take what you buy on holiday with you? For passengers flying within the UK and EU, when you shop in-store a free Shop & Collect service is on hand to store your purchases ready for your return trip. Our pick-up location is at our main terminal reception after you've collected your luggage and cleared customs.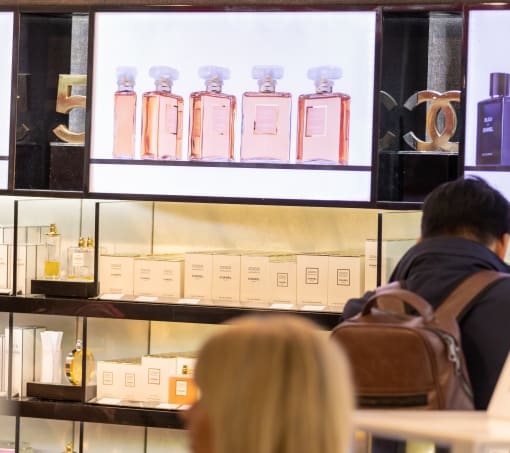 Outside the EU
If you are travelling outside the EU you have access to savings of up to 50% on green ticket items such as: cigarettes, cigars, tobacco and a range of spirits. The Canary and Channel Islands are included in the savings too, so make sure to look up your destination on World Duty Free's Custom Allowances page for more details.
Don't worry if you're heading to the EU, spirits, wine, champagne, fragrance, skincare and confectionery is all available to purchase in-store.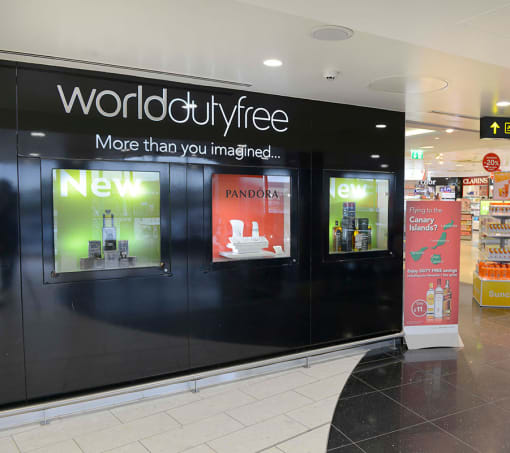 Get rewarded when you shop
With the Red By Dufry loyalty program you can earn points on every purchase in any World Duty Free store around the world. Download the mobile app and save 5% the next time you shop simply by presenting the app's QR code at the checkout.
For every €1 (auto-converted at the current rate) you spend you will receive 5 points. Earn enough points and reach Gold or Platinum status gaining access to even greater discounts.
Frequently Asked Questions
Where can I find out more information about World Duty Free products and services?
Information on World Duty Free prices and return policies, including post-Brexit information, can be found on World Duty Free's FAQ page.
Where do I pick my World Duty Free Reserve & Collect order up?
Reserved orders made online should be picked up from the collection point in the World Duty Free store located after security on the first floor of our terminal.
Does World Duty Free offer a loyalty scheme?
Red By Dufry is an app-based loyalty program offering discounts and rewards in World Duty Free stores.
Are there restrictions on the amount of duty-free I can buy?
If you are flying within the EU there are no restrictions on the amount you can purchase for personal use (there are some guidelines that exist for these amounts).
How will I know if I need to declare goods brought to the UK or pay customs charges?
You can bring some goods from abroad without having to pay UK tax or 'duty' (customs charges), as long as they're for your own use.
Can I buy baby food or milk formula after airport security?
Boots in terminal departures is on hand for baby and toddler essentials including nappies, formula milk, food jars and baby wipes. You can also order online to collect at the airport store.
Can I buy toiletries and sun care after airport security?
In our Boots store you'll find a fantastic range of health and beauty products; including sun care, toiletries and miniatures. Toiletries and sun care are also available in our other shopping outlets.